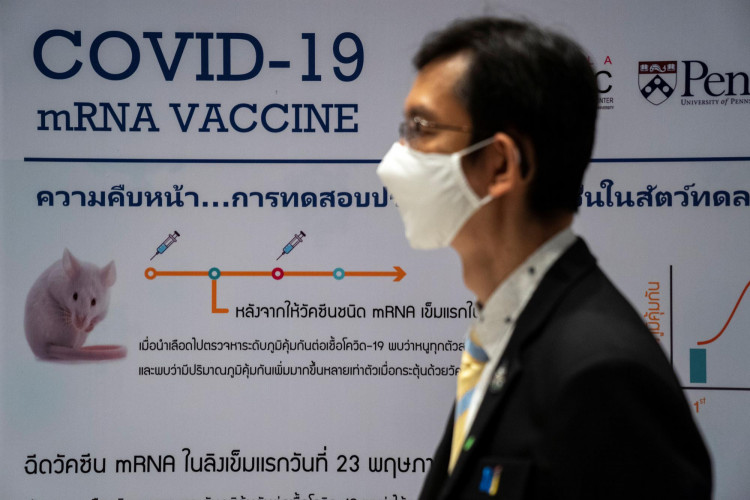 The Ministry of Higher Education, Science, Research and Innovation of Thailand disclosed on Monday that the COVID-19 vaccine trial of the country has progressed after macaque monkeys administered with the first doses of the candidate drug showed a satisfactory immune response.
The scientists told media on Monday that antibodies were created in the monkey's body at a respectable level, and no adverse effect on their health was observed.
The group aims to launch clinical trials as early as October and offer the vaccine to Thailand and neighboring countries at a fair price within next year.
Pharmaceutical firms have already started clinical trials of coronavirus vaccines in China, Europe, and the United States, but experts point out that it will take some time before their vaccines can be dispersed to countries across the world.
The Thai vaccine is among at least a hundred being formulated worldwide as nations reel from the crippling impact of the virus that has sickened over 8.7 million and claimed the lives of 461,000, with Sunday's 183,000 cases the highest reported case in one day.
Thirteen monkeys were given the vaccine on Monday and the next two weeks will be crucial in finding out whether the scientists can continue with the next set of tests.
Kiat Ruxrungtham, COVID-19 vaccine development program lead researcher at Bangkok's Chulalongkorn University, said they are going to "analyze the immune response once again... if the immune response is very, very high, then this is a good one," Juarawee Kittisilpa of Reuters, reported.
The chief of the National Vaccine Center, Dr. Nakorn Premsri and the Secretary-General of Thailand's National Research Council, Prof. Dr. Sirirurg Songsivilai, said both animals stayed strong after the first injection, and their nervous and respiratory systems were fine without side effects.
The blood tests showed sufficient results that they can produce antibodies so that the second round of shots could commence and in two weeks the monkeys are expected to develop an immune response to the disease.
The animals are divided into three groups, with one given a high dose, another a low dose, and the last, none. The monkeys were given three shots in total, each one month apart.
If the trial yields positive results, the monkeys will get the third shots in August. Following that, the findings of its efficacy and protection will be tested before the human trial will proceed.
The Thai government has allocated a budget of around 10 billion yen, or $93 million, to support the development of vaccines by local research groups.