Entertainment
"Roger Waters tells Facebook, Instagram they can shove their cash on the dark side of the moon.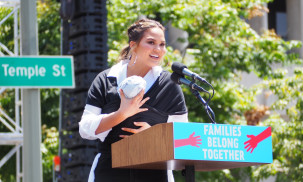 Several of Teigen's toxic and insensitive tweets have recently resurfaced online.
"Lisa Banes never recovered from a traumatic head injury suffered in a collision with a motor scooter.

"Jennifer Lopez and Ben Affleck may be ready to take their rekindled romance to the next level.
The Latest
The anti-vax protesters accuse Dave Grohl of "bringing segregation back" after asking for vaccination proof.

The Zen'in Clan may have been removed from the lines of the manga's biggest three clans after its defeat.

From Izuku to the Pro Heroes, everyone is on the move to stop the villain from wreaking havoc all over the universe.