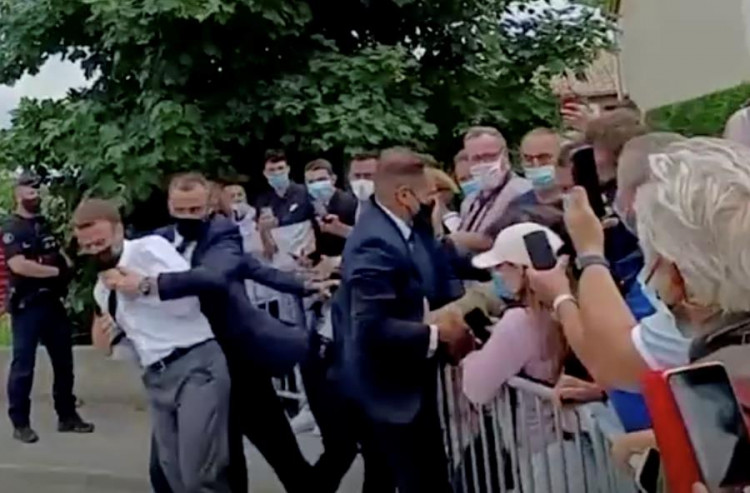 France's President Emmanuel Macron was slapped in the face by a man in a crowd when visiting south-eastern France.
His bodyguards pulled him away but he returned to talk with the crowd shortly after.
Footage shows a masked man shouting "Down with Macronie" before swinging at Macron's left cheek with an open palm.
"Macronie" is a derogatory term used in the French press to refer to Macron's presidency.
Macron'a Valence şehri dışındaki bir tren istasyonunda vatandaşlardan biri tokat attı. Konuyla ilgili iki kişi tutuklandı. pic.twitter.com/QVrn9QIxpV — Kasım İleri (@kasimileri_) June 8, 2021
The man shouted "Montjoie! Saint-Denis!" a medieval battle cry used by the Capetian royal dynasty, which governed France from the 10th to the 18th century, CNN said.
Macron was scheduled to meet with restaurant industry entrepreneurs and investors, NBC reported.
Police arrested one for the slap while another's role is unclear, reports said.
On Twitter Macron said: "Tomorrow, a new step will be taken... It's part of our culture, of our art of living, that we are going to rediscover."
Macron's biggest political opponent, far-right leader Marine Le Pen, said in a news conference that physically assaulting the president was "unacceptable."
Macron is currently on a charm campaign, with France's presidential elections happening in less than a year, and the country just weeks from regional elections June 20 and June 27.
Macron is not the first French politician to be slapped in the face while speaking to the public.
In January 2017, former Prime Minister Manuel Valls was visiting Lamballe in Brittany when a young man slapped him before being swarmed by bodyguards.
<iframe width="1180" height="664" src="https://www.youtube.com/embed/i5FI8M-sDpI" title="YouTube video player" frameborder="0" allow="accelerometer; autoplay; clipboard-write; encrypted-media; gyroscope; picture-in-picture" allowfullscreen></iframe>