Dogecoin (DOGE) has been around for about a decade now, and it has come to be known as the crypto industry's favorite cryptocurrency. The coin emerged in 2013, based on the doge meme that was popular at the time. It was created as a joke, and it was meant to be a joke cryptocurrency that would bring some fun into the crypto world, and lighten the mood a bit.
At the time, even its own creators did not expect it to last for more than a few weeks, or months, at the most. However, a decade later, DOGE is one of the largest cryptocurrencies by market cap. What's more, with the start of 2023, there is evidence that suggests that DOGE could be among the earliest coins to skyrocket once the price recovery starts in full.
Dogecoin in 2021 and 2022
Over the years, DOGE has shown that it has tremendous potential when it comes to its price. In a way, this is very similar to Bitcoin. The coin skyrocketed in early 2021, pumped by its community, which was helped by Elon Musk. Musk has played a huge part in making Dogecoin popular again, and putting it back under the spotlight, as it kept tweeting about it.
Thanks to his popularity and the fact that he called DOGE his favorite coin, a lot of people started getting into the coin, which DOGE's community used to encourage investments into it. As a result, DOGE skyrocketed from $0.0085 on January 24th, 2021, to $0.6678 on May 8th of the same year. This was it's all-time high, and while the price dropped after hitting this level, it still fluctuated between $0.20 and $0.30 for the rest of the year, before the crypto winter kicked in around November 11th, 2021.
Since then, the coin has found its bottom at $0.053 on June 14th, 2022. Since then, it has seen a slight recovery, and on November 2nd, it even managed to hit $0.14, which was its highest point since April 2022.
Will DOGE surge in 2023?
While there are no certainties in the crypto industry, and no one can predict anything with great accuracy, it is worth noting that Dogecoin's technical indicators, such as the Simple Moving Average (SMA) are suggesting that it is time to buy. The 10-day SMA value sits at 0.0711, and the relative strength index (RSI) sits at 41.09, which is a neutral state.
This shows that DOGE is currently neither overbought nor oversold. It is worth noting that the oscillators also suggest that it is time to buy at this moment.
Dogecoin's price has also seen growth since the start of 2023. The coin was sitting at $0.067 on Friday, December 30th, only to start growing from there. By January 5th, 2023, the coin's price climbed to $0.07483 which is, for the moment, DOGE's yearly high.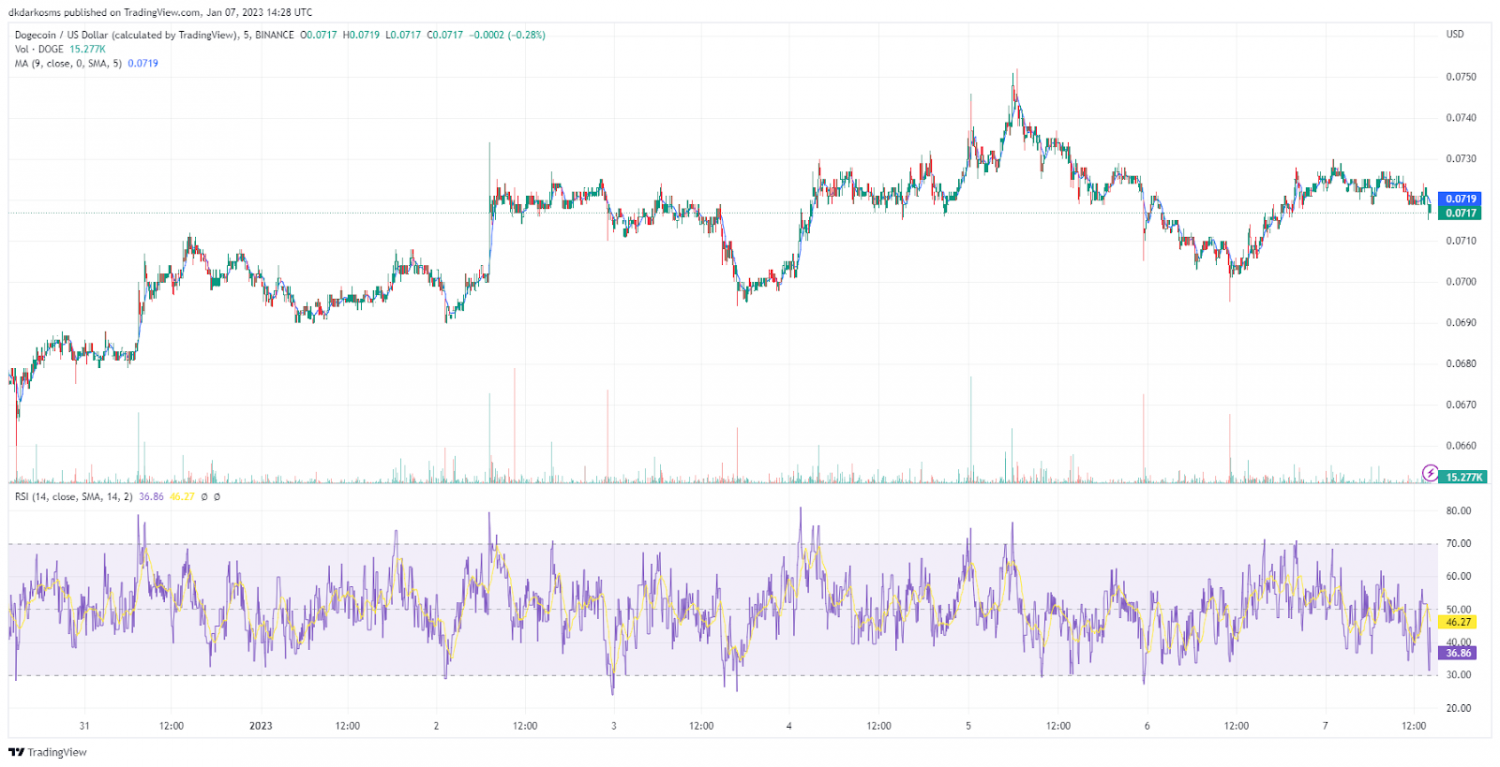 It is worth noting that the crypto industry has seen a 13-months long crypto winter. Whether the winter has ended, or if this is just a period of temporary recovery, remains unknown. Historically speaking, cryptocurrencies should start seeing a period of slight growth, which will be followed by another major bull run sometime in the future, possibly later this year, or maybe in 2024.
Another thing to note is that Elon Musk, which was commonly pumping DOGE using Twitter in the past, now owns the platform. Musk has connected himself to Dogecoin to the point where the coin now sees attention from investors whenever Musk is referenced in any way. For now, there is no reason to assume that he will stop supporting DOGE publicly.
So far, DOGE has shown that it has the ability to grow, as well as strong support from its community, as well as from Musk himself. The coin has already started a recovery following the year-long crypto winter, and while it has not made any particularly sharp surges as of yet, this doesn't mean that the coin will not skyrocket at some point in the future.
After all, DOGE is currently heavily undervalued, as many believe that it's true price lies between $0.20 and $0.30, which is where it landed in the second half of 2021, before the crypto winter started, but after its price crashed from it's all-time high.
So, will DOGE skyrocket in 2023? It is more than likely, assuming that the crypto winter has truly ended. The coin will start seeking its true value, and as more investors start returning to crypto investments, DOGE itself will climb more due to the upcoming demand and support. With that said, learning how to buy Dogecoin would probably be one of the best moves that a DOGE investor and believer could make.