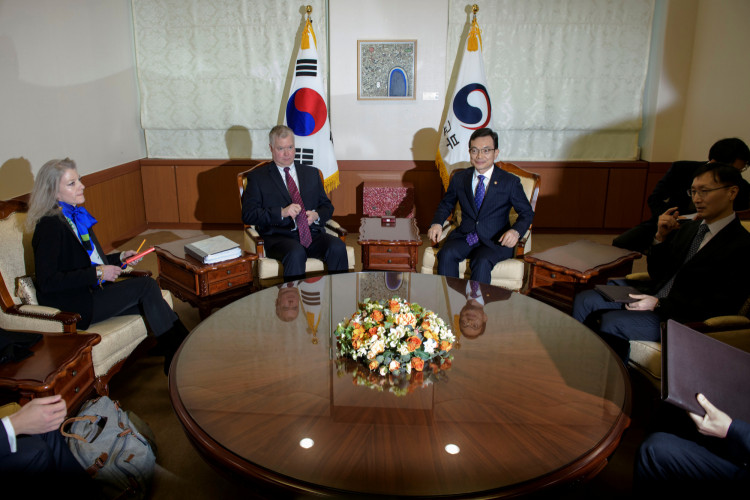 South Korea and the United States commenced their largest joint military exercises in five years on Monday, despite warnings from North Korea that such drills could be considered a "declaration of war." The exercises will run for not less than two weeks and focus on enhancing the allies' defensive readiness against any possible aggression.
To simulate precision strikes on important infrastructure in North Korea, the Seoul military and the Washington special forces have been holding "Teak Knife" military drills, which were announced this month in a rare move by the Seoul military.
U.S. and South Korean military exercises, codenamed Freedom Shield, are set to begin on Monday and extend for at least ten days, with the focus being on the "changing security environment" caused by North Korea's renewed hostility.
Given that this Freedom Shield exercise is the first to take place after that development, it "will be very different - both qualitatively and quantitatively - from previous joint exercises that took place in recent years."
In response to these drills, North Korea has justified its nuclear and missile programs on the grounds that they are necessary for self-defense.
The U.S. and South Korea maintain strong military ties, with regular joint exercises aimed at strengthening their defensive capabilities. The two countries signed a mutual defense treaty in 1953, following the Korean War, and the U.S. maintains a significant military presence in South Korea, with around 28,500 troops stationed in the country.
The allies conduct various joint military exercises throughout the year, ranging from small-scale drills to larger-scale operations, as part of their efforts to deter potential aggression from North Korea. However, these exercises have sometimes drawn criticism from North Korea, which sees them as provocative and a threat to its security.
Despite this, the U.S. and South Korea have remained committed to their military alliance, which is seen as a cornerstone of regional security in East Asia.
Over the weekend, North Korea fired two "strategic cruise missiles" from a submarine in waters off its east coast, the official KCNA news agency reported Monday.
Last year, the North declared itself an "irreversible" nuclear power and fired a record-breaking number of missiles, with leader Kim Jong Un last week ordering his military to intensify drills to prepare for a "real war".
North Korea has developed a significant nuclear weapons program, which it has been actively pursuing for several decades. The country conducted its first nuclear test in 2006 and has since conducted several more, with the most recent taking place in September 2017.