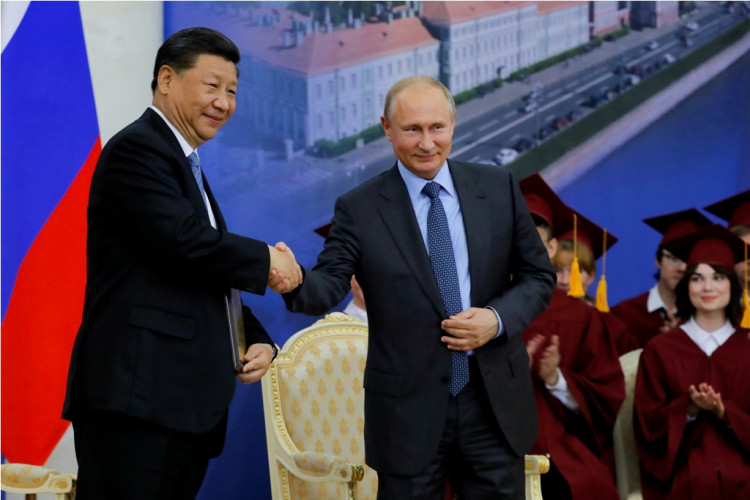 In a move that has raised eyebrows and concerns among Western nations, Chinese President Xi Jinping has embarked on a visit to Russia, his first trip to Moscow since the Russian invasion of Ukraine. The visit is widely seen as an apparent show of support for Russian President Vladimir Putin, which could further complicate global diplomatic efforts to resolve the ongoing crisis.
President Xi's visit to Russia is of particular significance given the current international climate, with many countries condemning Russia for its actions in Ukraine. The visit has sparked speculation that China may be looking to strengthen its alliance with Russia in the face of mounting global pressure.
During the visit, the two leaders are expected to discuss a range of topics, including bilateral relations, economic cooperation, and regional security issues. However, the focus of the international community will likely be on any discussions related to the ongoing crisis in Ukraine and China's stance on the matter.
While China has not explicitly endorsed Russia's actions in Ukraine, it has also refrained from joining the chorus of condemnation from Western nations. Chinese officials have previously called for a peaceful resolution to the crisis, urging all parties to exercise restraint and engage in dialogue.
Despite China's somewhat ambiguous stance, the decision to send President Xi to Moscow at this time sends a clear message. One expert on Chinese foreign policy said, "The timing of this visit is no coincidence. It's a clear signal that China is not going to abandon Russia in its time of need."
The growing ties between China and Russia have raised concerns among Western nations, who fear that a more robust alliance between the two powers could pose a significant threat to global security. The Russian invasion of Ukraine has already strained diplomatic relations and prompted a wave of economic sanctions from the international community.
During his visit, President Xi is expected to meet with President Putin, as well as other high-ranking Russian officials. In a statement ahead of the trip, Chinese Foreign Ministry spokesman Zhao Lijian said, "The two leaders will have an in-depth exchange of views on bilateral relations and major international and regional issues, and sign a series of important cooperation documents."
Some experts argue that China's apparent support for Russia could be an attempt to balance its interests in the region. "China is playing a delicate balancing act," said one analyst. "On one hand, it doesn't want to alienate its Western partners, but on the other, it doesn't want to push Russia too far away."
As the world watches President Xi's visit to Moscow unfold, the implications of this trip for global diplomacy and the ongoing crisis in Ukraine remain uncertain. The strengthening ties between China and Russia could potentially alter the balance of power in the region, adding yet another layer of complexity to an already precarious situation.