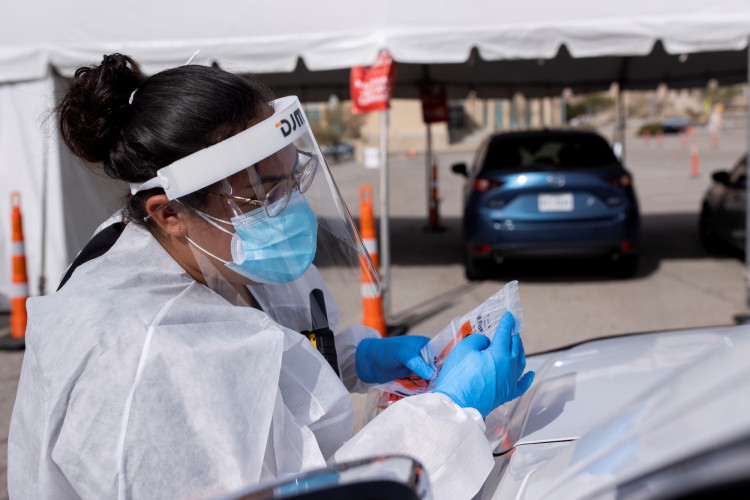 The U.S. is reinstating some COVID-19 related measures.
Reviving the Free Testing Program
On Wednesday, the Biden administration announced the revival of the free COVID-19 testing kit application program. They are relaunching the online ordering service and allocating $600 million for domestic test kit procurement. Starting September 25, U.S. households can apply for free testing kits on a designated website.
In the early days of last year, following a surge in cases due to the Omicron variant, the U.S. initially offered free test kits via postal service. The program was halted by the end of summer citing "lack of funds" but was resumed at the end of the year and again paused this spring.
While COVID-19 cases in the U.S. are on the rise, the primary reason for this relaunch might be to bolster domestic manufacturing capabilities and address supply chain concerns.
The U.S. Department of Health and Human Services emphasized the importance of enhancing U.S. manufacturing capabilities and reducing overseas dependencies in their press release. The $600 million will be used to purchase from 12 U.S. manufacturers, potentially creating hundreds of jobs across seven states.
HHS Secretary Xavier Becerra suggested that the new investment would boost the production of domestic rapid test kits and help curb the spread of the virus. Assistant Secretary Dawn O'Connell added that expanding domestic production capabilities prepares for a potential surge in demand during the winter. Moreover, manufacturers have been given the green light to sell directly to retailers if demand spikes.
Current COVID-19 Situation
Recent data shows a steady increase in COVID-19 hospitalizations in the U.S. According to the CDC, weekly hospitalizations continue to rise, with about 20,500 new hospitalizations in the seven days leading up to September 9. Though this number is significantly lower than previous pandemic peaks, it marks an 8% increase from the previous week, continuing an upward trend since late June. The latest figures equate to 6.2 new hospitalizations per 100,000 people.
Death rates are also climbing. Since the U.S. surpassed one million total deaths from the virus in the spring of 2022, an additional 142,000 people have succumbed to the disease.
However, wastewater monitoring suggests that the overall outbreak may be stabilizing. Biobot Analytics, after tracking samples from 257 U.S. locations, reported that the average COVID-19 content in U.S. wastewater was about 5% lower this week than the last. Epidemiologist Cristin Young from the company believes this wave is stabilizing and might decline.
Emory University's WastewaterSCAN, which monitors 183 locations across 36 states, also indicates that the outbreak is "stabilizing," but there are no clear signs of a significant decline yet.
Additionally, last week, the CDC updated its COVID-19 vaccine booster recommendations, advising all Americans aged six months and older to get vaccinated.
While COVID-19 is no longer considered a "public health emergency of international concern," it remains a public health threat. New Omicron variants, such as EG.5 and BA2.86, continue to emerge. The World Health Organization plans to hold a seminar on September 27 to discuss the current situation, new variant information, and their potential risks to public health.
Addressing "Long COVID"
Also, on Wednesday, the U.S. allocated $45 million to aid in the treatment of "long COVID." Over the next five years, nine clinics will receive an annual grant of $1 million. Last year, President Biden tasked the health department with devising a national action plan to address "long COVID."
"Long COVID" refers to a complex, multi-symptom illness that appears months after a COVID-19 infection, rendering many patients unable to work. Over 200 symptoms, including extreme fatigue, cognitive difficulties, headaches, dizziness upon standing, sleep issues, chest pain, blood clots, immune dysregulation, and even diabetes, might be associated with "long COVID."
According to an April analysis by the nonprofit Solve Long Covid Initiative, "long COVID" affects nearly 7% of U.S. adults, resulting in estimated wage, savings, and medical cost losses of $386 billion.
While no confirmed treatments exist yet, research is ongoing. The National Institutes of Health (NIH) is conducting an $11.5 billion RECOVER initiative, which launched two clinical trials in July to evaluate at least four potential treatments.