BABYMONSTER, YG Entertainment's latest girl group, has been continuously raising global anticipation with teasers revealing the concept of their debut song.
On November 19, YG Entertainment posted 'BABYMONSTER - VISUAL FILM | PHARITA' and 'BABYMONSTER - VISUAL PHOTO | PHARITA' on their official blog. Following Chikita, Asa, and Lora, Pharita is the fourth member to be introduced, captivating viewers with her soft charisma and mysterious sound in a visually striking video.
Pharita instantly captured the hearts of global fans with her photogenic gestures and compelling expressions. Her confident walk and unique physical presence, enhanced by an unbalanced outfit and leg guards, left a strong impression.
Hailing from Thailand, Pharita was selected after beating an intense competition ratio of 1,226 to 1, demonstrating her exceptional talent. Despite being only 18 years old, she has already made her mark with powerful vocals, a clear and captivating tone, and fluid dance moves, quickly catching the attention of music fans.
As each teaser progressively unveils more, the excitement for their debut is heating up. The revealed videos so far have shown upgraded visuals and stylish styling, coupled with the members' expressive performances, hinting at an extraordinary concept.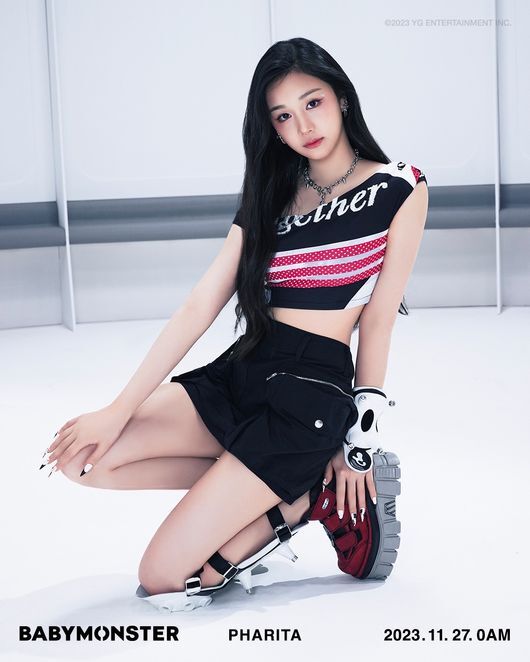 BABYMONSTER, a six-member group (Ruka, Pharita, Asa, Haram, Rora, Chiquita), is set to simultaneously release their debut song and music video at midnight on the 27th. With meticulously selected high-quality songs and a strong production team backing their successful debut, there's growing interest in the musical world they will unfold.
As the first girl group YG has introduced in seven years since BLACKPINK, BABYMONSTER is already gathering high expectations. With their exceptional musical capabilities in vocals, dance, rap, and visuals, and their unique star quality, they are already boasting overwhelming popularity. In fact, their official YouTube channel has surpassed 3.21 million subscribers and over 470 million views.