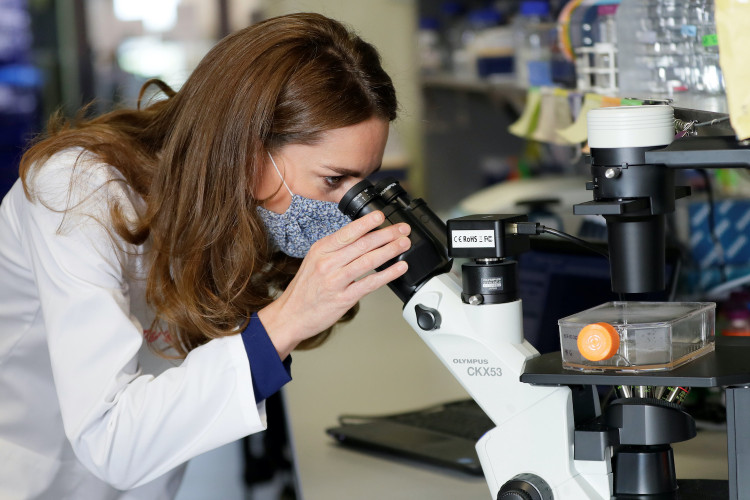 Kate Middleton visited a research facility in London to check up on the progress of a non-profit organization, Tommy's, that works with parents and families after a pregnancy loss. The Duchess of Cambridge heard many stories of agony and pain from the families at the clinic and showed sympathy for their experience.
According to People, the royal mother of three was apparently impressed by these parents who have been helping with the research so their baby's deaths won't be in vain. The studies conducted are for finding specific causes of miscarriage or pregnancy loss.
The chief of Tommy's, Jane Brewin, said that Kate was moved by the sacrifices of the parents. The Duchess of Cambridge also showed concern for the mental health struggles of these parents and the children they still have to raise. The royal was also curious about the risk of COVID-19 to pregnant women.
The visit comes as the U.K. is observing Baby Loss Awareness Week. While Kate has never had a miscarriage, she is an advocate for families with young children. Incidentally, the Duchess of Cambridge is a Royal College of Obstetricians and Gynecologists patron as well.
Brewin said that the royal's advocacy links to their work since a child's future may be determined as early as the pregnancy. There is also research linking mental health wellness in children from the time they are inside their mother's womb.
Tommy's has neuroscience experts who gave Kate a rundown of some of their studies. Brewin said that the Duchess of Cambridge showed interest in a lot of the research about pre-conception, pregnancy, and pregnancy loss, which might be connected to the child's welfare. She commended Tommy's for their work in reducing the incidence of miscarriages, premature birth, and stillbirth.
Meanwhile, the day before her visit to Tommy's, the Duchess of Cambridge presented the winner of the Wildlife Photographer of the Year. She was at the Natural History Museum in London to name the winner and wore an all-black ensemble.
According to Daily Express, Kate broke protocol with her outfit of choice since the royals are usually expected to wear black only when attending a funeral. Kate, however, looked stunning as she stood in front of the cameras for the annual ceremony in her dark ensemble.
There was no crowd at the museum when she filmed her spiel for the awards ceremony. The event was going to take place virtually the following day.