Bitcoin reached a nine-month high on Tuesday, gaining over 30% in four days as it shrugged off the turmoil in global markets following the collapse of Silicon Valley Bank (SVB).
The largest cryptocurrency rose as much as 9.6% to $26,533, the highest level since June 2022, marking its fourth consecutive day of gains. The positive sentiment was driven by U.S. regulators' efforts to minimize the impact of SVB's collapse on the crypto sector.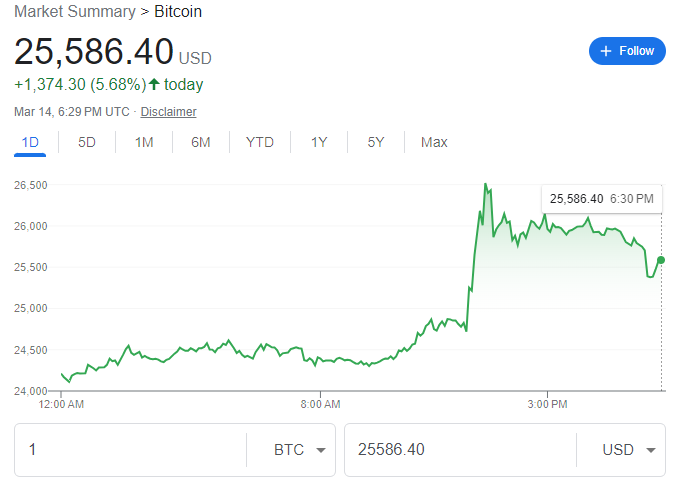 The action helped stabilize the second-largest stablecoin, USDC, and was seen as a positive development for the crypto industry as a whole. Bitcoin's resilience amid the collapses of SVB, Signature Bank, and Silvergate Bank, all key banking partners for several crypto firms, demonstrated its growing maturity as an asset class.
Furthermore, analysts attributed Bitcoin's gains to the release of U.S. consumer price data, which showed a slower rise in inflation than the previous month. The reading was widely anticipated and may prompt the Federal Reserve to slow or pause its interest rate hikes next week.
This data supported interest rate-sensitive crypto assets like Bitcoin, said James Butterfill, head of research at digital asset manager CoinShares.
Other factors that contributed to Bitcoin's rise included Binance's decision to convert its $1 billion industry recovery fund into tokens, including Bitcoin, and the recent drop in global yields, signaling a possible scaling back of interest rate hikes.
Bitcoin's rise was significant, given that it has had a volatile past few months, with prices fluctuating wildly amid regulatory crackdowns and the environmental impact of Bitcoin mining.
However, it appears that the digital asset has overcome those obstacles and has even benefited from regulatory support. While Bitcoin's future remains uncertain, some analysts predict that the cryptocurrency may reach new highs in the coming months, especially if the regulatory environment remains supportive.
"With CPI falling in line with expectations today and the recent fall in global yields signalling that interest rate hikes may be pared back, we have broken $25,000 with $28,000 the first target," said Richard Usher, head of over-the-counter trading at London crypto firm BCB Group.