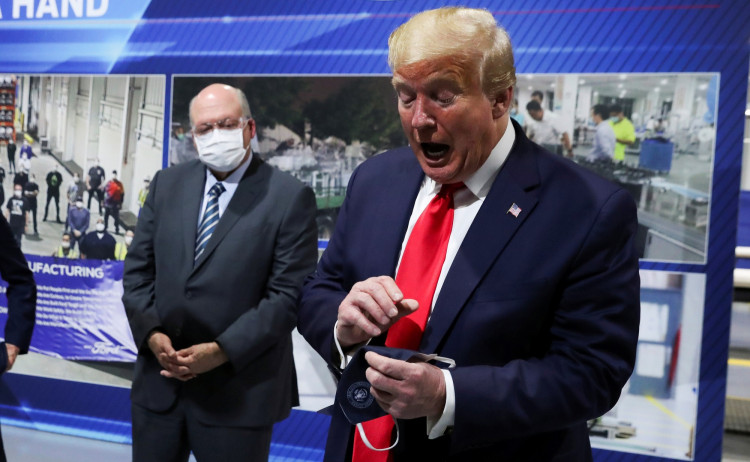 Finally, President Donald Trump was seen wearing a face mask when he visited the Ford plant in Michigan. However, the United States President removed the face-covering on the public part of his visit despite the company policy and the state law.
Donald Trump donned the mask with a presidential seal on it, given by Ford itself. There was even a photograph to prove that he did wear one. However, he later took it off, saying he did not want to give the pleasure of seeing him wearing one.
Melania Trump's husband confirmed that he wore a face mask at the plant's back area, which now makes ventilators to fight COVID-19. He then showed everyone the black covering that has the presidential seal in the corner, NBC News noted.
He even said that he believed he looked better with a mask but explained that he needed to remove it because he was making a speech. He also insisted that he did not need a cover because he was tested, as well as the people he was meeting with, for coronavirus earlier in the day.
In a statement, the company revealed that Executive Chairman Bill Ford encouraged Donald Trump to wear a mask when he arrived. He donned the face cover during the private viewing of three Ford GTs but later removed it for the remainder of the visit.
Ahead of the tour, Ford let the White House know its policy. It said everyone dons PPE to prevent the spread of COVID-19. However, it cleared it had no intention to challenge the POTUS, knowing the White House has its own policy, testing policies, and determination when it comes to the virus.
Donald Trump has famously disregarding the U.S. Centers for Disease Control and Prevention's advised to wear masks when going to enclosed company to avoid the spread of coronavirus. Michigan's attorney general Dana Nessel even warned the 73-year-old of the state law about wearing a face mask.
If he never followed the rule, he would be told not to return to enclosed facilities there. She told CNN that if they knew he was coming to Michigan and not following their law, they had to take the proper action against the company or facility that let him visit without wearing a face mask, which put the state's workers at risk. Nessel also stressed that they could never afford it to happen in their place.
Two White House workers, who had been physically close to Donald Trump, were tested positive for COVID-19. However, the president is tested every day, and he came out negative before the visit.