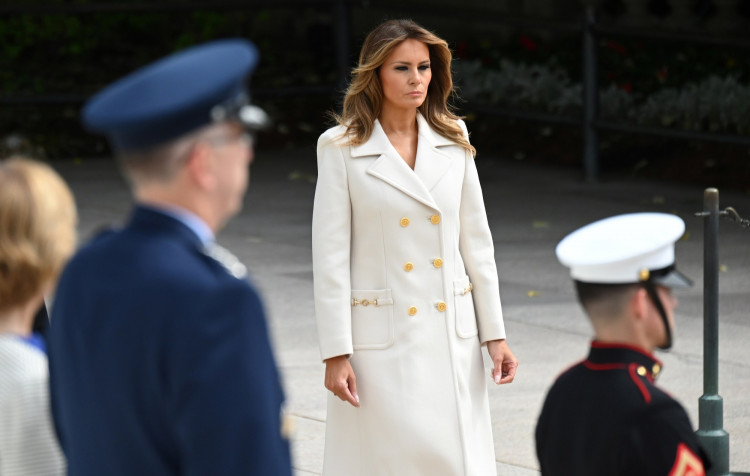 Melania Trump has been receiving a lot of attention in recent weeks. Following the release of the excerpt of the upcoming unofficial biography titled, The Art of Her Deal: The Untold Story of Melania Trump, the focus of reports have centered on the First Lady and the First Daughter, Ivanka Trump.
While the narrative concerning the excerpt has continued to develop in recent days, recent headlines have new updates about the President's wife. As reported, Melania missed Donald Trump's birthday as she did not greet him on her social media accounts, according to the Daily Mail.
On Sunday, the US President turned 74. He, reportedly, celebrated his day in New Jersey, alongside Ivanka Trump and Jared Kushner. Melania Trump, on the other hand, was nowhere to be found.
On the same day, however, the First Lady "retweeted" a greeting post for the United States Army's "birthday" in marking its 245 years in service. But, apart from this, she never made any comment or appearance in relation to her husband's birthday.
Donald Trump retweeted a post from a follower, though, featuring a photo of him and his wife, Melania Trump dancing. He also, reportedly, shared a few greetings made by his family members, friends, and colleagues.
While the First Lady did not share anything on social media, the rest of the First Family, reportedly, greeted the patriarch of the Trump clan on their respective social media profiles. These included his kids, Don Jr, Ivanka, Eric, and Tiffany Trump.
Several officials and persons in positions also greeted the US President, according to Republic World. Although their birthday greetings are all filled with wishes and positive hopes for Donald Trump, the rest of the netizens did not share a similar sentiment at all.
It is said that many individuals marked the day as an appreciation mark for the former US President, Barack Obama. The hashtags, "Obama Appreciation Day" and "Obama Day" were "trending" on various social media platforms.
Alongside the posts intended for the former American leader, other netizens, reportedly, included posts with the hashtag "All Birthdays Matter," which is a reference to the current movement across the United States, the Black Lives Matter.
In the case of Melania Trump, she has not made any comments at all not only about her husband's birthday but, to the allegations made, as well, about her and Ivanka Trump. The East Wing's Chief of Staff, Stephanie Grisham, however, released a statement as a response to the allegations and deemed them as "fiction."