The cryptocurrency market has experienced a strong rally in recent days, with Bitcoin heading for its best week since January 2021. The world's largest digital currency has seen an impressive increase in value, with other major cryptocurrencies such as Ethereum, Binance Coin, and Cardano following suit. The surge comes as investors increasingly turn to digital assets amid ongoing global economic uncertainty.
At the time of writing, Bitcoin's value has surpassed $26,000, marking a nearly 20% increase over the past week. Ethereum, the second-largest cryptocurrency, has also posted gains of around 15% during the same period. This significant upswing in the crypto market has led to renewed optimism among investors and industry experts.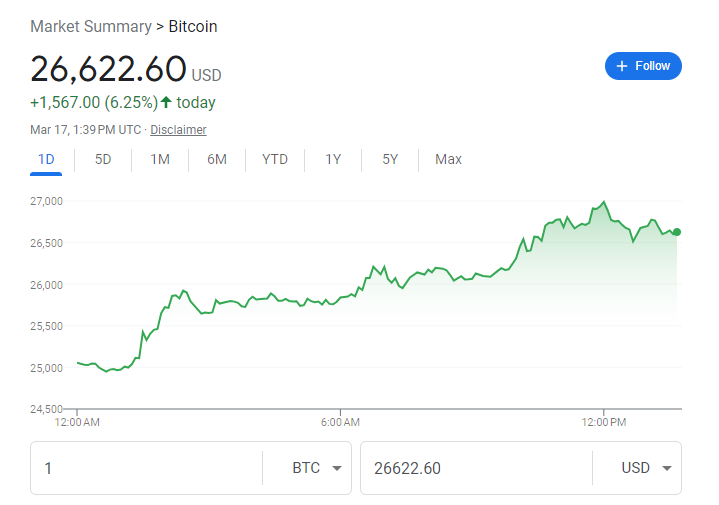 According to CoinDesk, one of the key factors contributing to the rally is the growing interest in cryptocurrencies from institutional investors. "More and more investors are beginning to view cryptocurrencies as a viable investment option, particularly in times of economic uncertainty," said one analyst. "As traditional financial markets remain volatile, digital assets like Bitcoin and Ethereum are increasingly seen as a safe haven."
Another factor contributing to the surge in cryptocurrency prices is the ongoing geopolitical tensions between Russia and Ukraine. As the conflict escalates, investors are seeking alternative investments to hedge against potential risks associated with traditional financial markets. Digital assets, which are decentralized and not subject to the same level of government control as traditional currencies, offer an appealing option for those looking to diversify their portfolios.
While the cryptocurrency market is experiencing a notable upswing, it has not been without its challenges. According to a recent report from Barron's, crypto funds experienced net withdrawals of $30 million in the week ending March 15. However, this figure represents a significant decrease in outflows compared to the previous week, when withdrawals reached $110 million.
Some experts have also warned that the current rally may be short-lived, as the market remains susceptible to sudden shifts in sentiment. One cryptocurrency analyst cautioned, "While it's encouraging to see the crypto market rebounding, it's important to remember that this space is still highly volatile, and prices can change rapidly."
Despite the potential risks, many industry insiders remain optimistic about the future of cryptocurrencies. One market strategist commented, "The recent rally demonstrates that the appetite for digital assets is still strong, and we can expect this trend to continue as more investors recognize the potential of cryptocurrencies as a hedge against traditional market volatility."
As the cryptocurrency market continues to gain momentum, it remains to be seen whether the current rally will be sustained in the long term. However, the growing interest from institutional investors, combined with the ongoing geopolitical tensions, suggests that digital assets may continue to play an increasingly prominent role in the global financial landscape.