Marking her 15th debut anniversary, IU (under EDAM Entertainment) has wrapped up an unforgettable celebration with her fans, known as "UAENA".
On September 25, EDAM Entertainment announced, "The '2023 IU Fan Concert I+UN1VER5E' was successfully held over two days, the 23rd and 24th, at the KSPO DOME in Songpa-gu, Seoul." They added, "It was a time where the artist and fans became one, reflecting on the past and envisioning the moments ahead together."
The concert, "I+UN1VER5E", as the name suggests, was a space where the artist and fans reminisced about memories made in the 'IU and UAENA' universe and envisioned their shared future. The overall mood of the event, a mix between a concert and fan meeting, was set within this shared universe. From the start of the pre-sale for the official fan club 'UAENA', all seats were sold out, achieving a simultaneous online connection record of 350,000 users.
IU graced the stage in a flowy dress, opening with her hit song "Celebrity." With a bright smile, she greeted, "How have you all been? This is my first fan concert since debut. It's a mix of a concert and fan meeting. I started with a song related to stars to match the concept." Fans in the audience responded passionately with the official light stick, 'I-Light', illuminating in various colors and roaring cheers.
IU continued to heat up the venue by performing familiar hits like "Secret Garden", "Strawberry Moon", "BBIBBI", "Coin", "Blueming", "Through the Night", "Heart", and more. She also unveiled a never-before-seen performance of the song 'Havana', elevating the atmosphere.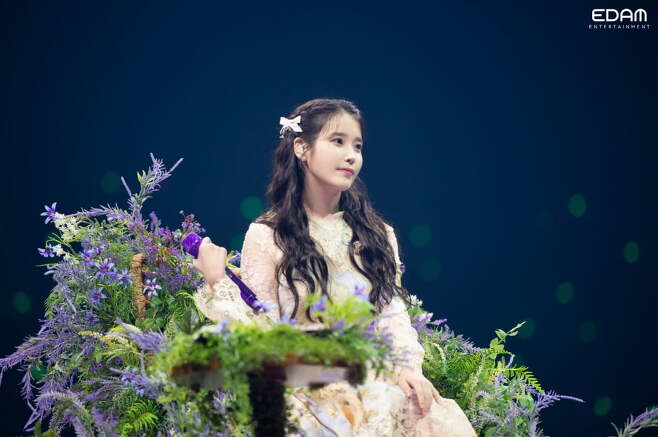 Segments like "IU's Ultimate UAENA Fan Moment", "Best UAENA Awards", and "UAENA Spoiler" added both fun and emotion. IU showcased her unparalleled talk show skills and presented cover song performances and dances to "Rover" and "Candy", fully displaying her versatile charm. True to a fan concert, IU interpreted what fans most wanted and wished to see in her unique style.
Before her final song, IU shared, "This has truly been the most memorable and happiest time this year. I feel energized to keep going. Thank you for celebrating my 15th anniversary. Let's continue to watch over each other and create more 'amazing' moments together. Thank you. See you again in 15 years."
Additionally, IU surprised fans with generous gifts at the concert venue. Fans could feel the sincerity IU packed into every moment, expressing her gratitude towards "UAENA" who have been with her throughout her journey. The fans, in return, passionately cheered, creating heartwarming scenes throughout the event.
True to IU's style, she presented encore performances of different songs on each of the two concert days, wrapping up with a fulfilling ending. The nearly 180-minute event shimmered with the trust and time artist and fans have built together, raising anticipation for IU and UAENA's future growth.
A representative from the agency commented, "The two-day event was a genuine festival under the name "IU-niverse", bringing together both domestic and international "UAENA". IU, powered by the love of her fans, will continue to give back with great activities."
Currently, IU is busy filming the drama "You Have Done Well. "