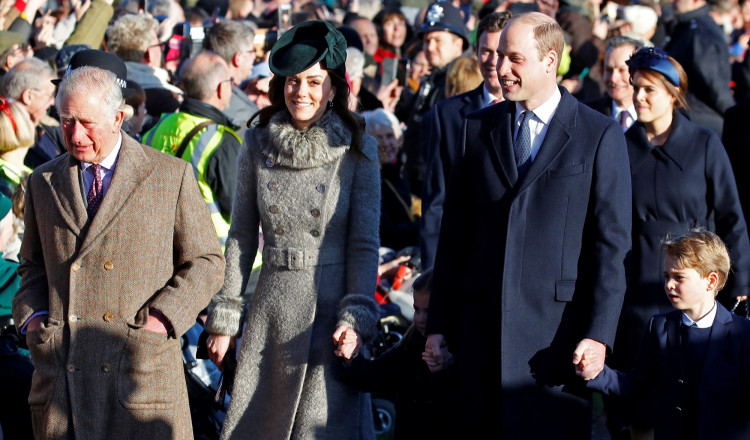 They might not yet understand the seriousness of a coronavirus pandemic but Prince William and Kate Middleton's children -- Prince George, Princess Charlotte and Prince Louis -- know who to thank in this crisis. The Cambridge children joined the rest of Britain as they clapped for carers to show their appreciation for the medical frontliners.
Prince William and Kate shared the video of their kids clapping for carers on Instagram. Along with it was a message of thanks for the "doctors, nurses, carers, GPs, pharmacists, volunteers and other NHS staff working" who have been helping those affected by the pandemic.
Prince George, who is six years old, and Princess Charlotte, who is almost five years old, smiled for the cameras as they clapped away. Their youngest brother, Prince Louis, who is almost two, mimicked his siblings and kept looking at them to see if he's doing it right.
The video received nearly five million views in under six hours. Medical workers from other parts of the world also thanked the Cambridge children for their warm gesture.
Clap for Carers is an online initiative that spread across the U.K. on Thursday, March 26. Millions of people stood out of their homes, gardens and balconies to cheer and applaud the medical frontlines risking their lives to save thousands of COVID-19 patients.
According to The Guardian, some even banged on pots and pans, rang their doorbells and blew their horns so that their gratitude would be heard louder. Meanwhile, many buildings across Britain were lit in NHS blue for the healthcare workers.
Meanwhile, as school is closed in the U.K., Prince George and Princess Charlotte are home schooling for the rest of the term. According to Closer Weekly, they have been taking online classes using their iPads with Kate's guidance.
Kate normally doesn't indulge her kids with gadget use but they have to adjust their activities and incorporate the online education to follow their lessons. As a matter of precaution, Prince William and Kate have also not allowed their children to see their friends as they need to follow government guidelines to limit movement, practice social distancing or stay home.
A source said that the children have been missing their friends. However, Prince Louis is delighted that his older brother and sister are home all the time to play with him.
The Cambridges have moved from Kensington Palace to their country house in Anmer Hall amid the coronavirus lockdown. It is believed that they will stay there until Easter but Prince William and Kate might have a few short trips to London to attend to some of their royal duties.