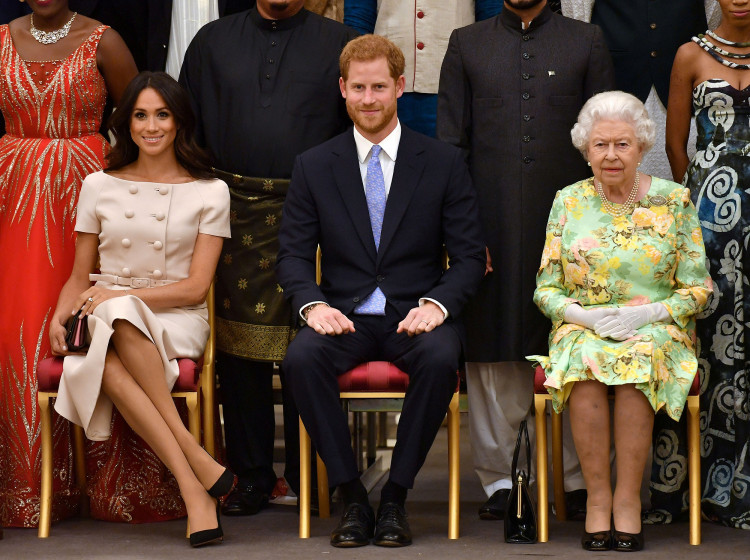 Meghan Markle and Prince Harry were, reportedly, being "monitored" by Queen Elizabeth because the monarch was not impressed by their "reckless" spending habits. This happened before they left the royal family, as Prince Harry and Meghan apparently spent large amounts on many things.
According to the book Royals At War, which was written by Dylan Howard and Andy Tillett and published this week, Prince William and Meghan enjoyed "lavish extravagance" as royals. This, reportedly, went against the Queen's own spending habits, who is known for her "shrewd eye."
An insider also claimed in the book that Prince Harry and Meghan wanted to build their own lifestyle brand to compete with other enterprises. Doing so would make them the kind of "celebritized" royals, which could impact and clash with the monarchy.
It is apparently all about the money for the Duke and Duchess of Sussex, according to sources who spoke with the authors for the book. This goal, allegedly, signaled Prince Harry and Meghan's push to become financially independent from the royal family.
The sources also said that Meghan apparently burned a lot of bridges just to get to her goal of being famous. But in doing so, she, allegedly, alienated a lot of the palace staff, who had all sorts of nicknames for Prince Harry's wife and who are, reportedly, the ones who hold the real power because they squeal to the press.
Apparently, once Meghan burned bridges, there was no going back. So, in January, the Duke and Duchess of Sussex announced they would be stepping back from their royal roles and try to be private citizens with their own private income. They also said that they plan to live in North America, away from the confines of the royal palaces.
But Royals At War has been criticized as a "stupid, re-hashed nonsense" by a friend of the Duchess of Sussex. According to a source close to the couple, the details from Howard and Tillet are old news and sourced from the tabloids, where the stories have been categorically stated as false.
Royals At War is published by Skyhorse and has been labeled as an "explosive expose" into Prince Harry and Meghan's lives. The promo said that the book will answer questions about the criticisms against the Duchess of Sussex by the tabloid media, including the allegations of racism. But early reviews said it's mostly focused on the often-repeated issues and speculations against Meghan.