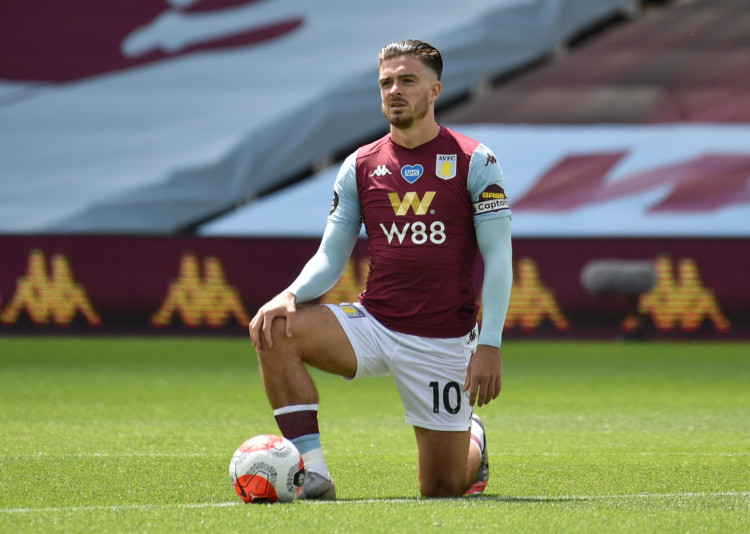 Aston Villa captain Jack Grealish appeared all set to make the big jump in the summer as reports came out that he has found a new home around the area of Carrington, where Manchester United is based. Grealish is a priority signing of United boss Ole Gunnar Solskjaer and all indications are pointing to his impending entry to Old Trafford.
Grealish started on his search early on the year, around the time that Solskjaer has ramped up on his effort to bring the Villa star to his side. The hunt has reportedly ended, and the winger is said ready to scoop up on a property that is be believed to be near the United HQ.
Metro reported that the Villa skipper has been telling friends of the plan to make a new home where the Red Devils train. A suitable has been identified, and Grealish should be making a move soon.
Needless to say, the property buying is connected to what the future holds for the Villa star, who is also lined up for international duties with England. It would seem that Grealish is inching closer to leave the club where he started his football career as a boy.
The 24-year-old seemed decided to move to a better place regardless of the fate that awaits Aston Villa in the Premier League. The club is No. 19 on the competition table and is at risk of relegation with only 27 points to its name in the season.
The latest loss versus the Wolves on Saturday only moved Villa to the likelihood of getting back to the Championships next season. And in the process, the club will need to say goodbye to Grealish.
His teammate, Conor Hourihane, has conceded that Villa's best player will be out of the roster soon. Hourihane said Grealish is now on a different level, and it was evident in the ongoing campaign, where the winger scored nine goals in the competition.
The Irish said Grealish joining up with a better team is inevitable as things have become too easy for him at Villa Park.
"He's taken it by storm. You know, England team and getting that big move is only a matter of time. If I'm being brutally honest, he's too good for our team at Aston Villa," Team Talk reported Hourihane as saying.
United, however, will still need to make a deal with Villa, and the seller is expected to demand £80 million for the release of Grealish.
Solskjaer is optimistic, though that the relegation-threatened Villa will consider the current situation, like the financial pressures caused by the COVID-19 pandemic, and give a discount on the player's price tag. It is said Solskjaer is ready to say yes if the asking price will go down to £70 million.