BTS's V has achieved a career-high by setting a record as the first Korean solo artist to top both the UK Official Singles Chart and Spotify.
V's title track "Slow Dancing" from his solo album "Layover" clinched the number one spot on the UK Official Singles Sales Chart and the Single Download Chart on September 15th.
The album "Layover" also ascended to the top of the Official Album Download Chart. V is the first Korean solo artist to dominate both charts simultaneously.
With this achievement, V has qualified for three "UK Chart Specialist Awards". It's known that these awards are presented upon request from the artist or their agency.
Prior to this, the music video for "Love Me Again", which was pre-released, became the talk of the town by being the first by a Korean artist to top the "Tidal UK Top Video" chart.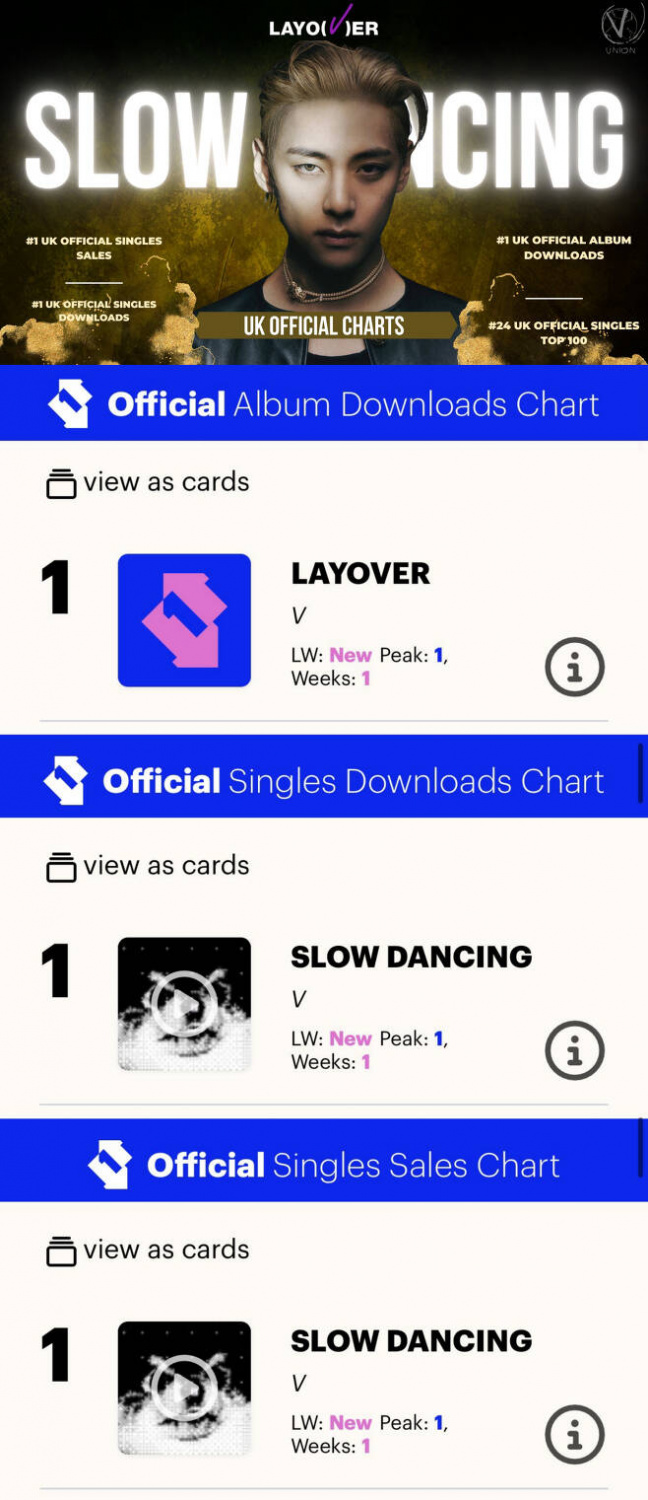 On the world's largest music platform, Spotify, "Layover" broke records by surpassing 100 million streams in its first week of release. The album was streamed a total of 101,448,727 times in its first week. This is the first time a Korean solo artist has achieved this, and apart from Japanese-Australian artist Joji, it's a unique record in Asia.
Every track from the "Layover" album made it to the Spotify Global Weekly Chart, with each track achieving over 10 million streams in its first week.
V also set the highest streaming record for a solo album debut on the Korean Spotify chart, showcasing his immense power in the music streaming domain.
Achieving such results without major playlist promotions or advertisements holds significant meaning. Fans, recognizing this album as an introduction to "Kim Taehyung as a solo artist", continue to shower their unwavering support for his future endeavors.
Meanwhile, "Layover" maintained the number one spot on the iTunes Worldwide Chart for six days and surpassed initial sales of 2.1 million copies. V has become the first artist to exceed 2 million initial sales for a solo album since the Hanteo Chart began its tally, holding the record for the highest initial sales for a K-pop solo album.