If you're aiming for a trendy look this F/W season, it might be a good idea to have a 'slip skirt' ready in your wardrobe. The slip skirt, which was a favorite among fashion enthusiasts in the 1990s, is making a grand comeback in the fashion world of 2023.
Derived from the English word 'slip', which means 'to slide', the slip skirt refers to a skirt with a sleek design that seems to flow along the body's silhouette. While the slip dress, a type of underwear, was traditionally made from silky or satin-like thin materials, the slip skirt typically uses similar textures. However, recent trends have seen a rise in more daring see-through materials, stretchy cotton, and velvet variations of the slip skirt.
The mood exuded by the slip skirt is one of restrained sensuality. The skirt emphasizes the body line, amplifying a feminine mood, while its subtle details add elegance.
With the resurgence of the slip skirt trend, celebrities have also jumped on the bandwagon. One of the most talked-about figures recently is Lisa from BLACKPINK. She donned a satin slip skirt with quirky graphics and a tie-dye color combination, achieving a feminine yet unique look. Additionally, Lisa wore her slip skirt in a low-rise style, ensuring she didn't miss out on the trendy vibe.
Miyeon from (G)I-DLE sported a long slip skirt made of dark navy satin. She paired the minimalist skirt with a sleeveless crop top and sneakers, presenting a hipper styling.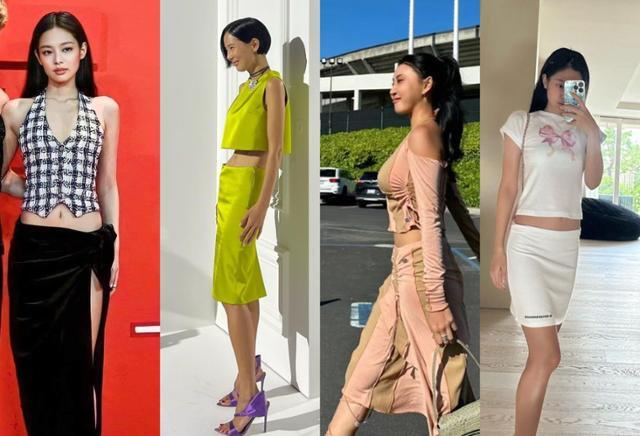 Jennie's red carpet look, which deviated from the typical slip dress by featuring a long slit on the thigh, also caught attention. She wore a long slip skirt made of velvet with a slit detail in a low-rise style, paired with a cropped tweed vest, exuding an urban chic vibe.
Kim Nayoung and Hwasa each wore slip skirts made of satin and a flowy thin cotton material, respectively. Both paired their slip skirts with matching tops in the same material and color, showcasing a cohesive styling.
For those who find elegant materials like silk or satin a bit daunting, opting for a sporty mood slip skirt, like Jennie's, is a great choice. Jennie paired a tight-fitting cotton mini slip skirt that emphasized her body line with a white short-sleeved t-shirt adorned with a cute ribbon print, completing a minimalistic look that resonates with the MZ generation.