Celebrating their 7th anniversary this year, the globally acclaimed group BLACKPINK marked the grand finale of their second world tour in Seoul. While there was heightened anticipation regarding their contract renewal, the group chose to focus on delivering a flawless live performance, filling the entire runtime and promising, "We will continue to be the amazing BLACKPINK."
On September 17, BLACKPINK held their 'BLACKPINK World Tour BORN PINK Finale in Seoul' at the Gocheok Sky Dome in Guro District, Seoul. Over the two-day concert, they attracted 35,000 attendees, including fans from Korea, China, Japan, Southeast Asia, and other parts of Asia.
Following the release of their second full album 'BORN PINK' in September of the previous year, the group embarked on an extensive tour starting in October at the Seoul KSPO Dome. They performed in 34 cities across North America, Europe, Asia, Oceania, and the Middle East, totaling 64 shows and attracting 1.8 million fans. This world tour, spanning over a year, concluded at the Gocheok Dome, making BLACKPINK the first K-pop female artists to perform there.
The stage at the Gocheok Dome was adorned with a pink-tiled traditional Korean house roof, reminiscent of their appearance at Coachella. BLACKPINK's powerful beats were amplified by a live band session, and the lighting effects added to the spectacle. The setlist was also revamped from their previous year's concert, featuring both group and solo performances.
Kicking off with 'Pink Venom', BLACKPINK performed hits like 'How You Like That', 'Pretty Savage', 'Whistle', 'Kill This Love', 'Love Sick Girls', and many more, keeping the energy high for over 130 minutes. Their impeccable dance routines and powerful live vocals filled the dome, proving why they are adored globally.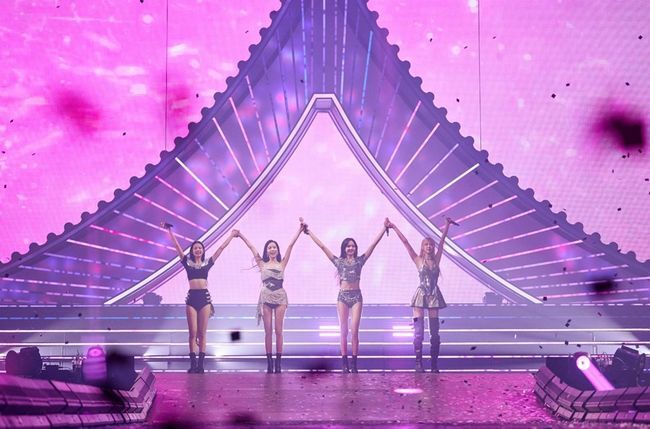 Each member's solo stage showcased their unique charms. Jennie, the first to debut solo from BLACKPINK, mesmerized with an unreleased song 'You & Me', performing a duet dance with a male dancer. Rosé delivered an emotional performance with her signature vocals in 'GONE' and 'On The Ground'. Jisoo showcased her dance skills with her debut solo song 'Flower' and 'All Eyes On Me'. Lastly, Lisa captivated with her powerful dance and rap in 'Money'.
Throughout the concert, the members expressed their gratitude and emotions. Rosé mentioned, "It feels like we and BLINKs have become one, and it feels like it will be like this forever." Lisa thanked the fans for the wonderful experiences during the tour and emphasized her gratitude for lighting up her twenties.
Jennie concluded, "We've reached our 7th anniversary this year. Looking back, we wanted to show our best, and we couldn't meet many BLINKs in Korea. We wanted to have the encore finale in Seoul, and we're happy. We promise to continue being the amazing BLACKPINK. We love you." She reiterated this promise while performing the encore song 'As If It's Your Last'.
With the 'BORN PINK' finale, BLACKPINK has promised their fans a bright future ahead. As they've achieved numerous firsts, highs, and records over the past seven years, growing into global K-pop stars, all eyes are on what the future holds for BLACKPINK.